Regular price
Sale price
$20.00 USD
Unit price
per
Sale
Sold out
A limited edition, high quality issue at over 120 pages that will last you for years to come. Perfect-bound, luxurious matte finish at 8.25x11". A wonderful ad-free, screen-free reading experience. And all print issues come with a FREE companion digital issue.
This issue has been in the back of our minds for almost a decade now, and we're so proud and excited to share it. Think of this as our next-to-ultimate guide to veganism - but it's not just for people wanting to go vegan. If you've been at it for a while, it'll re-inspire you in the kitchen; if you're looking to be more plant-based, it's got lots of practical tips and recipes.

It's got 120+ pages, 17 articles, 55 recipes, and 3 new printables in total - it's just a (in our opinion) perfect resource whether you're vegan or not.
Looking for digital issues, subscriptions, or discounted collector's packs? Head here to see our full shop. This listing is for a print issue only.
WHAT'S IN THIS ISSUE
veganism 101: a decade's worth of tips on how to go and stay vegan for the long run

the essential plant-based pantry
learning to cook without a recipe
getting to know (and sharpen) your knife
nourishing vegan meals: keeping up with our health in the tastiest ways
getting over the fear of food: busting faux-health claims and our internal biases
vegan on a budget
(not boring) beans, our favorite vegan protein source
learning through baby steps (and easy substitutions)
playing with food: navigating lunchtime with bento
our big guide to dining out (and getting takeout) alone or with friends
our go-to desserts for every occasion
ultra-fast breakfasts for busy weeks
learning to save time & have fun in the kitchen
and more!
Our fave savory recipe: extremely crunchy tofu katsu w rice - the crunchiest, salty, soft-inside tofu that we inhaled during recipe testing.
Our fave sweet recipe: the instant golden milk latte mix - we've been drinking these every day while designing & editing!

Notable feature: 30 days, 30 dinners: recipe inspo so you never run out of weeknight meal ideas
Share
View full details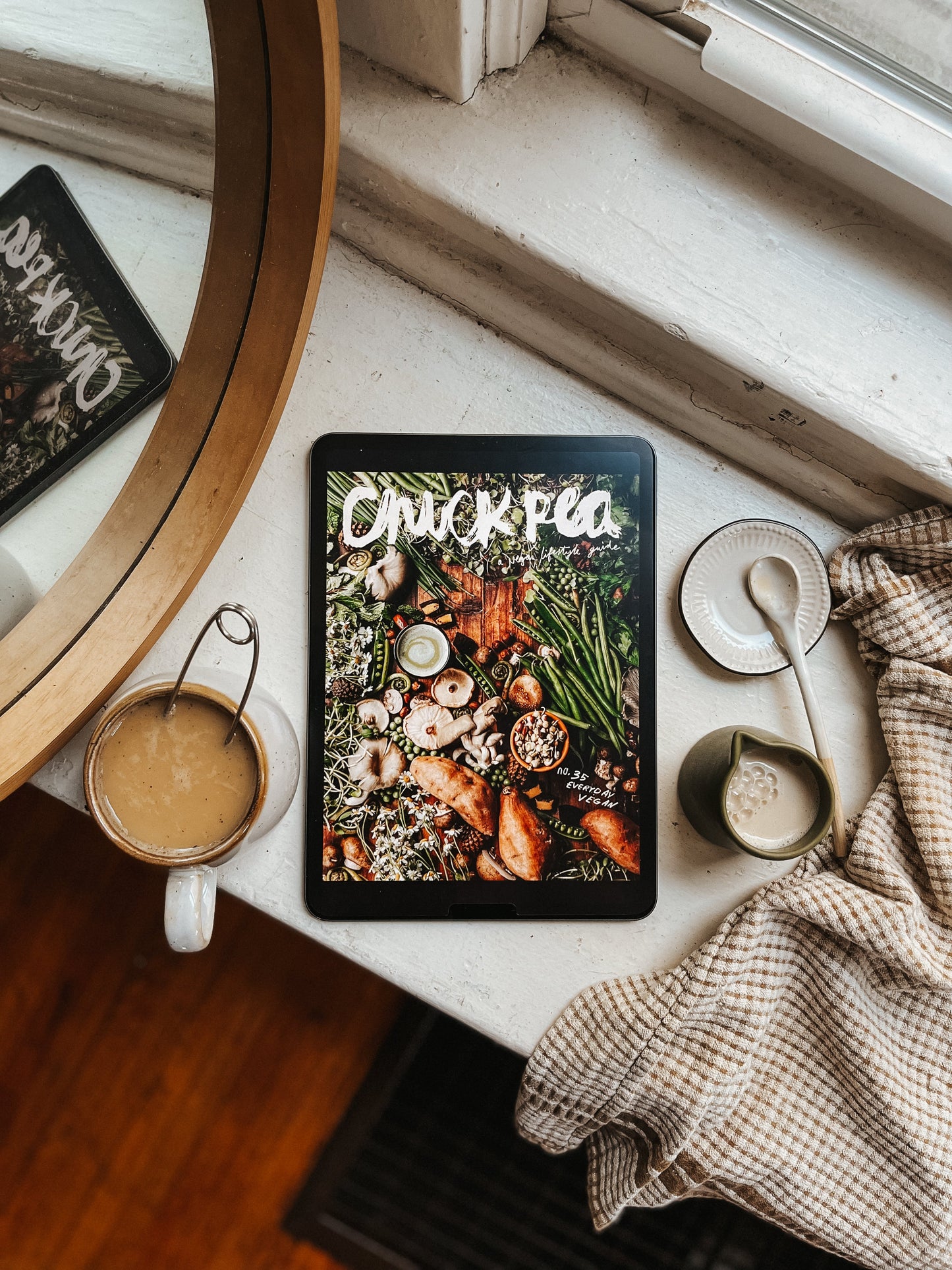 FAQs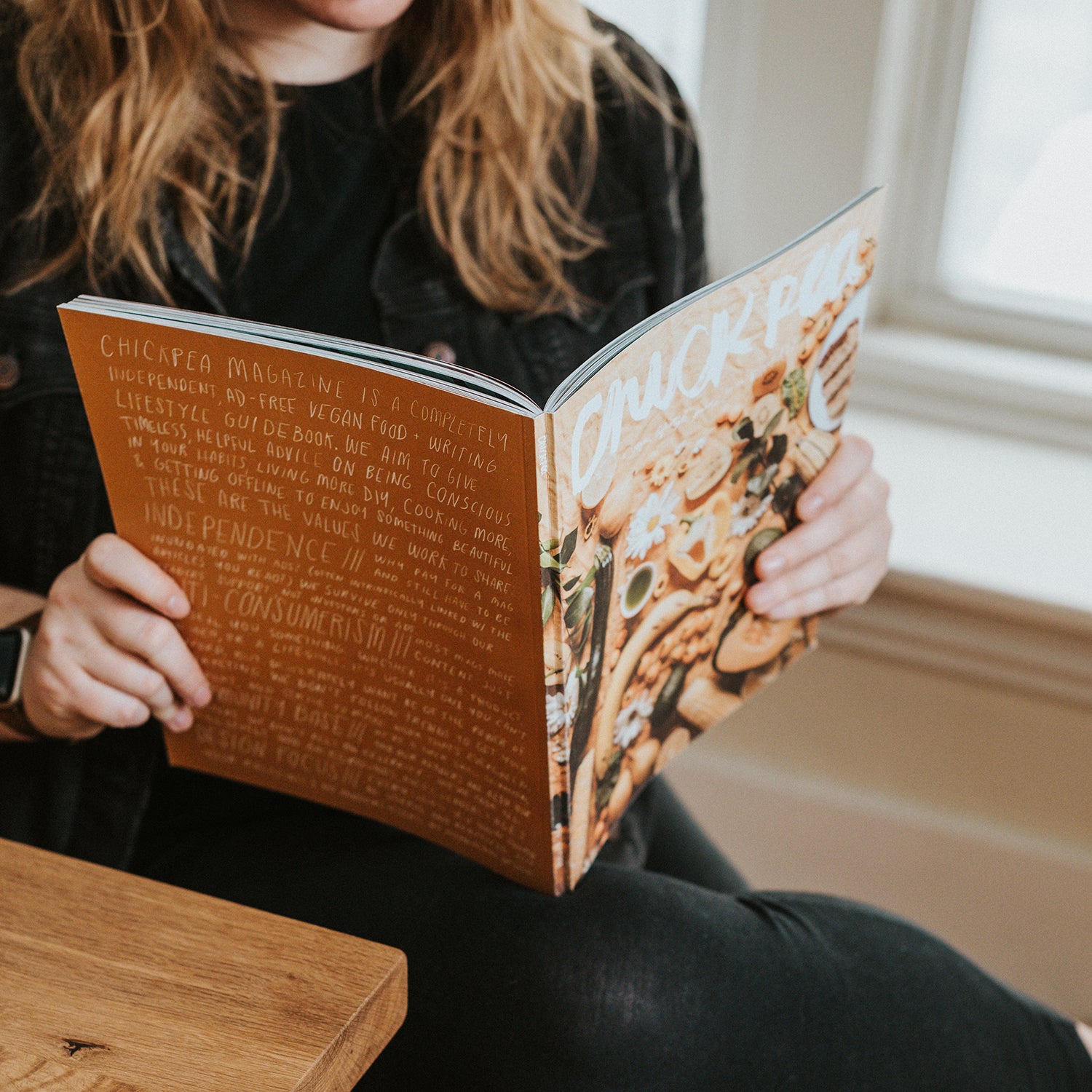 How does ordering & shipping work?

We accept all major credit cards and Paypal. We ship worldwide - on the cart page you can calculate shipping to your location before ordering.

All physical orders (except pre-orders) are shipped once a week through USPS. Standard order shipping takes anywhere from 3-10 days depending on where you live. International orders may take anywhere from 10-30 days, depending on customs slow downs. 

All digital items will be sent to you automatically after purchase. Digital subscriptions will be sent via email as soon as the newest issue is released.  
How do pre-orders work?

Since we're an indie mag with no ads, we rely entirely on readers to go to print. That means that every dollar we make goes toward printing and paying our writers, which can take time to raise.

You get a discount on your limited-edition issue for pre-ordering, and help an indie publisher keep going!

Be sure to check our Instagram for any/all updates on printing, shipping, etc.
How do subscriptions work?

Issues come out twice a year, and you get four issues total.

No matter the type you buy, you get a free digital subscription and access to our monthly Club bonus content emails.

There's no auto-resubscribe, so no worries about us charging you when your subscription ends.
What is the Chickpea Club?

All mag subscribers, whether print or digital, get access to our monthly Club bonus content and database of all articles and recipes from the issues in their subscription.

Think of it like Patreon rewards - recipes, printables, ebooks, tips, and more. Learn more on our FAQ page.